Mobile Marketing for Military and
Veteran-Owned Companies
CrossLink Media wants to honor your service by providing an extended FREE offer exclusively to military, veteran-owned and military-related non-profit organizations. Register today
We are a proud supporter of military families and we THANK YOU for your service. Whenever possible, we hire military veterans, military spouses and reservists. We contribute to military-related non-profit organizations, military scholarship funds and more. If your company is military-related, please contact us for exclusive opportunities to grow your business.
CrossLink Media has extensive experience with military and DoD agencies and wants to help you reach your customers through their most personal device – the wireless phone.
Some of our military customers include: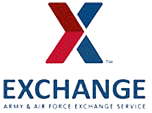 The Exchange
CrossLink Media powers the mobile coupon program that drives customers into stores and to the
www.shopmyexchange.com
website.

US Department of Veterans Affairs
www.VeteransCrisisLine.net
CrossLink Media connects veterans and military families during crisis situations with trained VA counselors who are ready to assist.

We serve many individual installations and veteran-owned companies with mobile coupons, alerts and more.
Contact us
today to start driving more sales for your business – FREE!